Do I need a party wall agreement? 
The Party Wall Act 1996 applies to houses in England and Wales and was introduced to prevent building work that could compromise the structural integrity of any shared wall (party wall) on adjoining properties.
If you're planning on carrying out any building work near or on a party wall, you need a party wall agreement. You have to make your neighbours aware, provide them with a Party Wall Notice and devise a Party Wall Agreement in writing. If you use a builder or an architect then they should help you, but they don't serve the notice for you.
You need to get a Party Wall Agreement if you're planning on doing any of these:
Any work to shared walls (party walls) between semi-detached and terraced houses.
Work involving shared 'party structures', such as floors between flats.
Work to garden boundary walls.
Excavation works – or underpinning – to, or close by (within 3-6m), the party wall.
Loft conversions that mean cutting into a party wall.
Inserting a damp proof course into a party wall.
Making party walls thicker or higher.
Building a second-storey extension above a shared wall.
Building a new wall up to or off the party wall.
What doesn't need a party wall agreement?
Minor works like drilling into a wall to fit kitchen units/shelving, etc, plastering the wall, or works on electrical wiring or sockets don't need an agreement because they're not structural.
What happens if I don't get a party wall agreement?
It's not an offence if you don't observe the party wall act, but your neighbours could take civil action against you and get an injunction issued against you to stop work until an agreement is arranged. You also risk having to pay for damage that wasn't your fault.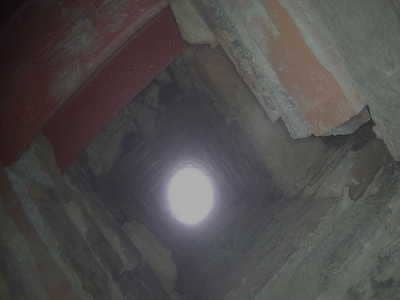 What's involved in a party wall inspection?
Chimneys are a common challenge with party wall agreements.
If your chimney rests against a party wall, at least one wall of the flue will be shared and might even overlap. Often each neighbour's flue will be on their own side of the party wall, but one wall of the flue is shared. One might think both properties have their own chimney breast, but it's common for the flues to overlap (usually in the loft space), and the chimney breasts are sometimes shared. This is why chimney inspections are a vital part of any party wall agreement – or at least they should be!
A Party-Wall Chimney Inspection includes – 
Full visual inspection – pot; stack; hearth; ventilation; fireplace/ stove fitting; lintel.
The fireplace area will be covered with protective dust sheets that we provide
The flue/s will be swept and inspected in accordance with the 'Guild of Master Chimney Sweeps' code of practice and the industry standard.
A Full 'pan and tilt' CCTV chimney inspection.
Recorded footage shared via email
A detailed report including photos
Smoke Test 2 – Evacuation Test
This service takes approximately 120 minutes per flue.
For party-wall awards, the inspection is usually done before work has commenced on the party-wall and again once the work has been completed.
We recommend that we also perform a leakage test before any works have begun, as the flue might already be leaking.  A leakage test requires safe access to the chimney terminal and access to each floor, including loft spaces, where the flue passes.
You can find out more information here regarding camera inspections and leakage tests.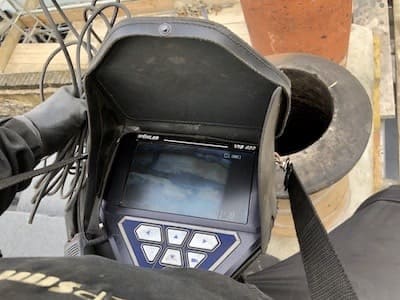 Would you like to make a booking or have a query? Get in touch below 👇