CCTV Chimney Inspection in London
It can be extremely difficult to diagnose a chimney problem. In the past, you would have had to knock a hole into the chimney, work with a very messy, limited point of access and no guarantee of finding the cause.
With SweepSmart's CCTV chimney inspections (otherwise known as chimney surveys) we use the very latest technology so you can be assured of a quick, clean and effective way of identifying the problems. The Wöhler Vis400 camera is able to record high-quality footage of your chimney and identify any problems or issues, along with the appropriate solutions.‍
The benefits of a CCTV Chimney Inspection
There are a number of reasons why you should consider a CCTV chimney inspection:
Our CCTV cameras have a 360o rotation and swivel views of 180o to provide clear footage of the entire flue.
Our CCTV cameras are small and compact, so no damage will be caused to your chimney.
It's a very quick way of identifying the problems with your chimney, as our chimney camera survey only takes around an hour to complete.
We will leave you with the footage and a report detailing any issues – perfect if you are a landlord or are selling your property.
CCTV Chimney Inspections give you the knowledge you need in order to decide whether or not you can safely use your flue.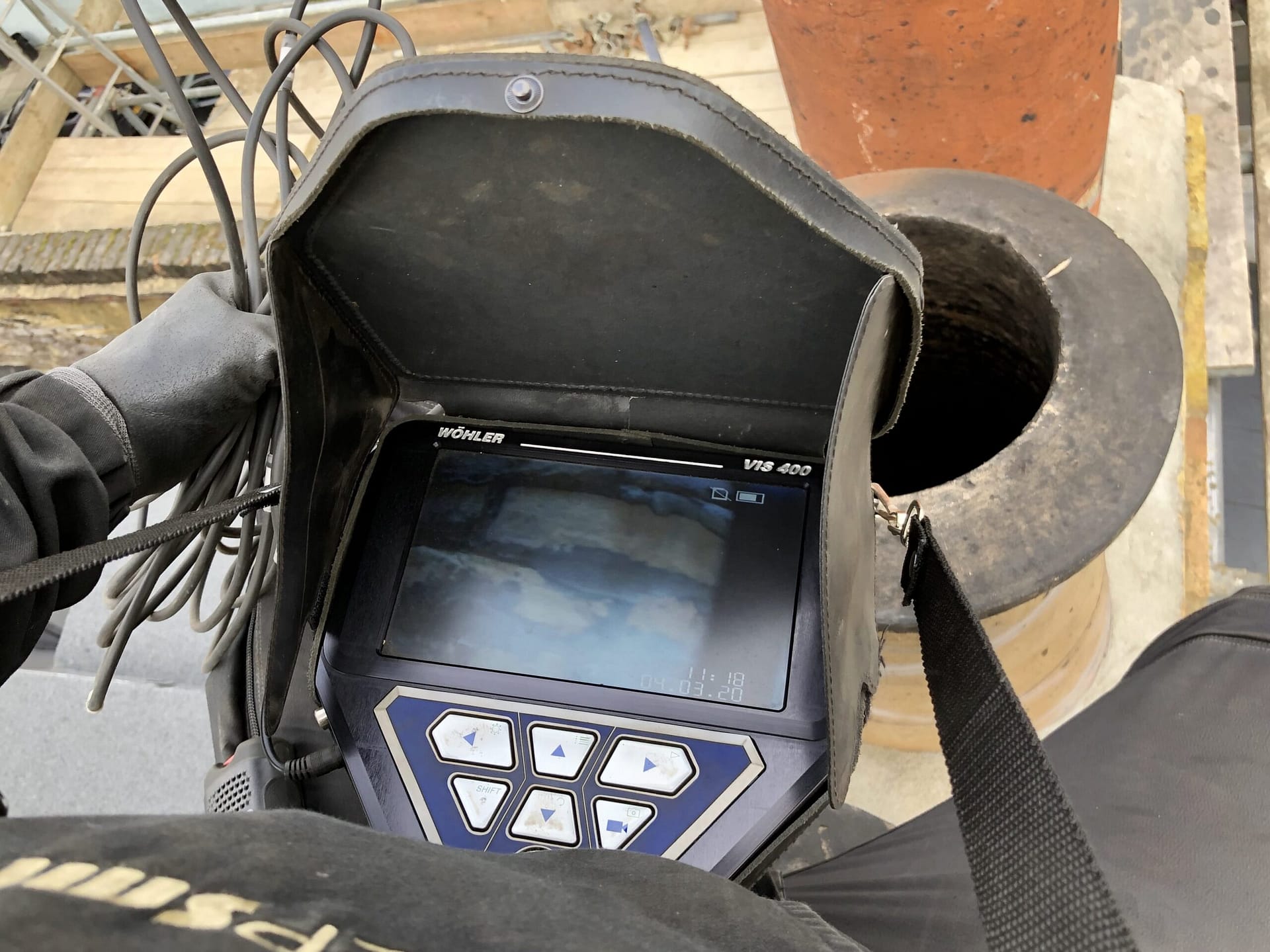 Do you need a CCTV Chimney Inspection?
‍
There are various reasons and circumstances in which a CCTV chimney survey is a wise choice to make. You may want to consider a chimney survey if:
Your flue functions poorly or fails an integrity test.
You have suffered a chimney fire – you may have flue damage, which can be dangerous to your home. We can tell you how severe the damage is and whether your chimney is safe to use.
You are thinking about buying a property or have recently bought it. Find out if your new chimney is safe to use, or what improvements must be made.
You have had repair work carried out on your chimney and want to ensure all issues have been properly fixed.
Your chimney has a blockage that sweeping cannot remove.
You want to identify whether or not you should have your chimney lined.
You have decided to reinstate an old flue.
You want to reassure your tenants that your property's flue is safe.
You want to be aware of potential problems with undertaking a loft conversion or building work.
You have ordered a property survey.
You are having your flue relined and need to make sure the liner will pass through.
Check before and after building works have been carried out on a party wall.
Carrying out your CCTV Chimney Survey
Before we send our camera up the chimney, we will ensure it is clean so that we can accurately film your chimney, without missing out on any problems.
We will start recording when our camera is at the top of your chimney, providing us with colour footage to check. The camera stops at regular intervals to ensure we don't overlook any area of your chimney.
If we find any problems, we stop and take multiple images, before continuing the inspection. On completion, we will show you the footage and images of any problems, discussing the best solutions for your circumstances.
This can be a lot of information to process, so we'll leave you with a report of our inspection and the footage, allowing you to consider your next step with no pressure or obligation.
For more information about our CCTV Chimney Survey and whether you should consider one, call 0208 351 7164 or contact us online now.
Would you like to make a booking or have a query? Get in touch below 👇